Eva Mendes Says She's 'Grateful' For Aging After Mean Instagram User Calls Her Old!
Posted 2020/02/01 1 0
Haven't we already learned unwarranted comments on a woman's age or appearance are just tasteless?
Eva Mendes had to gracefully remind an Instagram user about that unwritten rule on Saturday after a troll hopped in the comments section of what was an otherwise positive post of hers to throw a bit of shade at the Hitch actress.
Related: Mario Lopez Gets Heat After Posting 'Tasteless' Kobe Bryant Meme
It all started after Ryan Gosling's wife uploaded a video of herself posing for the camera while at a design meeting for her fashion brand partnership with New York & Company. Mendes included a few extra details about her ensemble, a structured blazer and multipatterned pant combo, in the post caption and also gave a shoutout to her hairstylist for her new bob haircut.
The starlet, then, shared a loving message with her followers for all their support:
"Sending you all some extra love right now and always. Thank you for always sending me so much positivity and love through your comments. I read most of them when I can and it makes me so happy that there's so much love around. I send it all right back. Ten fold. 🖤"
Aww, nice! We can feel the good vibes coming from her words as we read them. Most of her fans responded in kind by flooding the 45-year-old's post with congratulatory and fun remarks.
But one person had to spoil the moment by rudely commenting:
"She's getting old."
And here's us, trying to figure out who asked for this person's opinion in the first place:
We guess Mendes had time on her hands because she dished an epic yet classy clap back to that "fan."
The film star expertly replied:
"Yes your right. Thank God I'm getting old. That means I'm still here. I'm gonna be 46 soon and grateful everyday that I'm aging. Was your comment suppose to make me feel bad? It didn't. It makes me feel grateful. So thank you for the reminder that I'm still here. ❤️❤️❤️"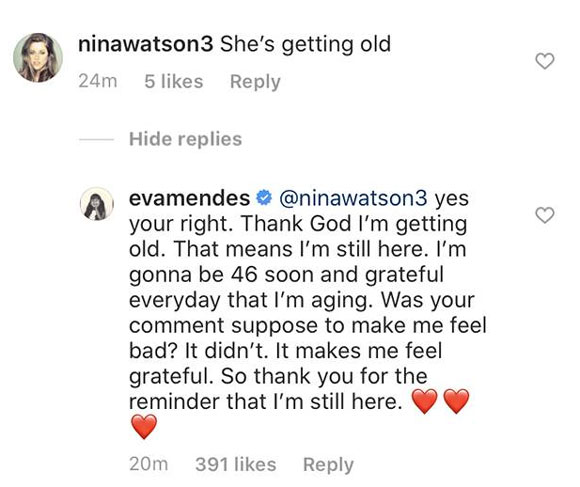 Ha.
This response is just classic and we agree — there's nothing wrong with getting older, especially when you're ageing like fine wine like Eva is!
Before you go, ch-ch-check out the clip that started the whole commotion (below) and let us know your thoughts about all of this in the comments!:
[Image via Eva Mendes/Instagram.]