Tyler Cameron Calls Out 'Bachelor' Contestant Kelley Flanagan For Trying To 'Job Shame' Other Women!
Tyler Cameron Calls Out 'Bachelor' Contestant Kelley Flanagan For Trying To 'Job Shame' Other Women!
Posted 2020/02/12 2 0
Just like the rest of us, Tyler Cameron has been keeping up with all of the dramatic twists and turns on this season of The Bachelor: the #champagnegate fiasco, shocking photoshoot scandals, and juicy drama off-screen drama IRL, all of it!
But on Monday night, the one-time reality star saw something he didn't like from a contestant named Kelley Flanagan and took to Twitter to call out one of Peter Weber's hopefuls for trying to "job shame" the other women in the competition. Yep, in 2020 it's totally a thing!
Related: ABC Boss Responds To Theory Peter Weber Ends Up With 'Bachelor' Producer
First, consider this your official [SPOILER ALERT] if you're not quite caught up yet, we'd hate to ruin this week's episode for you!
Here's a quick recap of what went down: Kelley was sent home by pilot Pete after a three-on-one date that included Victoria Fuller and Hannah Ann Sluss. However, on her way out, she threw major shade at the other women for not having as distinguished a career. As fans of the show know, Flanagan is an attorney which is pretty impressive at the age of 27 (the average age for the profession in the U.S. is 49).
As footage of the intense group date was shown, Kelley could be heard off-camera singing her own praises:
"I mean, look at me, I'm an attorney. The other girls? What are they?"
Visibly shocked after getting the boot, she added in a later interview:
"I have no idea why I'm in this car. But Peter made his decision and that's that. Does it suck? Yeah. Do I agree with it? No."
Oof, somebody was BIG mad. OK, now here's where Hannah Brown's ex-boyfriend comes in! While live-tweeting the episode on Monday night, Cameron quipped:
"How dare you job shame those girls Kelly… I didn't have a job when I came on the show!! #FuriousGeorge"
A day later on Tuesday, Tyler returned to the social media platform to clarify his point about the job shaming:
"From what I've seen and heard I think Kelley is a bad ass, but for those saying she's right about calling the others girls out because they don't have an elevated job are wrong. We all are on different journeys and time tables of success, who are we to judge others journey."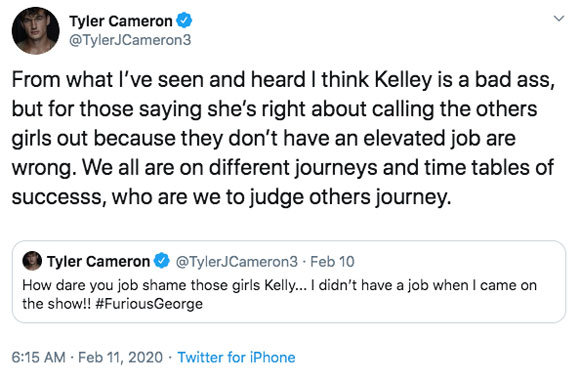 After a user responded and pointed out the producers could've edited Flanagan's comments together to make her sound worse, The Bachelorette alum insisted fans focus on the bigger picture behind the sassy statement:
"I'm not worried about that at all. It's a learning lesson and should be talked about."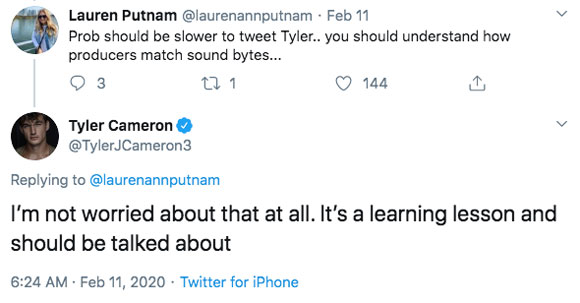 The eliminated contestant has yet to officially respond, however, she does have a tweet pinned on her profile about not accepting any "Kelley slander," so that already tells us where she stands!
Related: 'The Bachelor' HILARIOUSLY Censored Contestants' Bikinis On A Group Date!
For the record, the remaining women do have pretty respectable jobs. Fuller is a medical sales rep who works part-time at a yoga studio and Sluss is a published model. The other ladies who were not present on the date also have jobs; Kelsey Weier was former Miss Iowa and currently works as a professional clothier at Tom James Company, according to her LinkedIn profile. Lastly, Madison Prewett graduated from Auburn University in 2018 and is a foster parent recruiter. These don't sound like shameful professions to us!
Ready for another factoid to blow your mind?
ALL of these women are technically unemployed while they're on the show. Contestants have to take a leave of absence from their jobs to participate in weeks of filming without a definitive wrap date since that depends on how far they make it each week. So, despite being salty about her exit, Kelley's shade was truly unnecessary!
Perezcious readers, what do U have to say about all of this? Was that comment the perfect amount of mean girl sass we often see on the ABC show or totally uncalled for?
[Image via WENN/Avalon/Kelley Flanagan/Instagram].